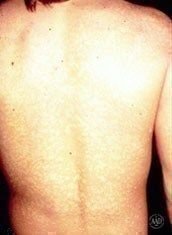 Tinea versicolor: Overview
Also called pityriasis versicolor
We all have yeast living on our skin. When the yeast grow out of control, a person can get a skin disease called tinea versicolor.
Your dermatologist may tell you that you have a fungal infection on your skin. Yeast is a type of fungus.
Many people get tinea versicolor. It is one of the most common skin diseases in tropical and subtropical areas of the world. People who live in tropical areas may have tinea versicolor year-round.
Image used with permission of the American Academy of Dermatology National Library of Dermatologic Teaching Slides.
---
© 2019 American Academy of Dermatology. All rights reserved. Reproduction or republication strictly prohibited without prior written permission. Use of these materials is subject to the legal notice and terms of use located at https://www.aad.org/about/legal